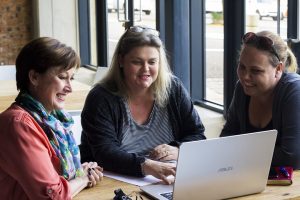 We met with Nadine Wright and Sam Jordt from Nation Changers to give us an idea of what they are about and to hear more of their up and coming Set Ablaze Conference. The aim of the event is to create awareness of the work that these 22 NGO's are doing in the community and to encourage anyone who is willing to come alongside them in whatever capacity they are able to.
They are a PBO that is an arm of City Hill Church and they have successfully been empowering the community for about 7 years feeding the poor, caring for the sick, upskilling people to be self-sustaining and supporting education.
Education is one of their focus areas as they understand that what they do today in children's lives will positively impact future generations. They work into 13 different creches. Teach reading in 3 primary schools using the Neema Gateway to Reading Program. They teach extra maths lessons at a High Schools and an ECD teaching training program run by Margie Dunn. We watched a video testimony of a lady who is currently studying so she can open a creche in her area in Inanda.
They are involved in feeding the community by working with Joint Aid Management distributing porridge. In addition to that, Nation Changers Meal packs deliver about 2000 packs (20000 meals) a month to Creches and impoverished households. The Clothing box receives donations from Drake Clothing, to upskill women who buy, fix and re-sell garments.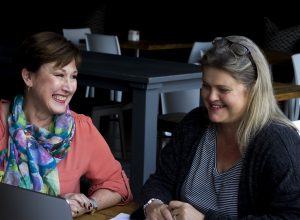 Who should attend the Set Ablaze Conference?
Anyone can attend. Volunteers, NPOs and Businesses. Everyone regardless of age or what their capabilities are can do something to help. Most of us want to help in some way but don't know where to start as there are so many needs around us. Nation Changers makes it easy to get involved in a number of different ways. The projects are not as overwhelming as they have a start time and end time. People willing to be volunteers become an army of ordinary people making an extraordinary difference. Last year they had 794 volunteers involved in 263 projects.
They link arms with other NPO's. Working in partnership which is is better than doing it alone. The vision ultimately is to make a difference in peoples' lives. Without funds, none of this incredible work would be possible. Companies willing to donate receive an 18A Tax Certificate as well as BEE scorecard.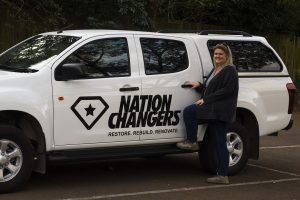 "Never doubt that a small group of thoughtful, committed citizens can change the world; indeed, it's the only thing that ever has."
Margaret Mead
Speakers:
Steve Wimble (CityHill Lead Pastor) – Welcome and Close

Nadine Wright (head of Nation Changers)

Cindy Norcott (Entrepreneur and founder of Robin Hood Foundation)

Candace Davidson (CEO of HACT) Hillcrest Aids centre trust

Eric Tocknell (businessman and founder of CityHill Church)

Rod Spencer Social Entrepreneur and BEE expert. Talk on BEE Score Card for companies.
Sign up here to attend the Nation Changers Set Ablaze Conference.