I Frequently visit Charity shops around Durban, One of them being the Hospice in Pinetown. I discovered Ngwenya and often meet a friend there. I asked Cara if I could interview her because I found her story quite interesting. She is a self-starter and entrepreneur.  She has brought a bit of character and life to the hospice shop and to Pinetown.
When did you open?
We were open for business on the 8th January 2018
What is the story behind you opening your Café?
Ngwenya coffee shop was opened by my uncle and myself. It was something my uncle always wanted to do. He had the vision of coffee and sandwiches to be sold. I had some ideas floating in my mind as I had just come back from America. We put our ideas together and out came Ngwenya Coffee shop. People often ask me why the name Ngwenya Coffee Shop. My uncle is known as 'Ngwenya' as in the Crocodile amongst the family and his athletic mates.
What did you do before?
I was an Au Pair in America, where I lived with a wonderful family for over two years.
What is something unique about your Café? A signature dish or a special.
I think what sets us apart is the quality of the goods that we use. I don't think you find many Charity Shops with cafés that use artisan bread and speciality coffee beans.
Many people have commented on our scones that we serve with fresh cream and strawberry jam…what a treat.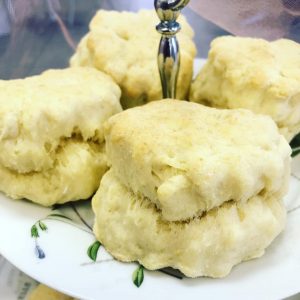 How do you deal with a difficult customer?
I am very grateful that I haven't had to deal with many difficult customers. I think its best to find out what it is that is making them upset and try to solve the problem as quickly as possible.
What advice do you have for other entrepreneurs?
I, myself am on this journey of discovery/learning about my business and never miss out on an opportunity to learn from others. What I've learnt so far is that vision in your business is very important and is the driving factor in your business. Also, do not give up while trying to turn that vision into a reality and don't be afraid to ask questions.
Make it a point to visit Ngwenya and the Hospice shop if you are ever in Pinetown.  Such great advice from Cara! You can not help but be inspired when talking to her about her journey.